29 Sep

Woodworking News Photoshoot

This morning we enjoyed a workshop photo shoot with Santa Fe Travel and culture photographer Douglas Merriam Photography (http://www.douglasmerriam.com), as part of our upcoming profile in Woodworking News Magazine. We're excited to share our story in the article, and we'll be sure publish links to the article on Facebook and here on our blog once it's complete. In the meantime, here are some photos of the photographer in action today. Here's a photo of Doug capturing the masterful work of Emilio, our hand carver. Emilio is working on a hand carved, Native American inspired carved cabinet door panel.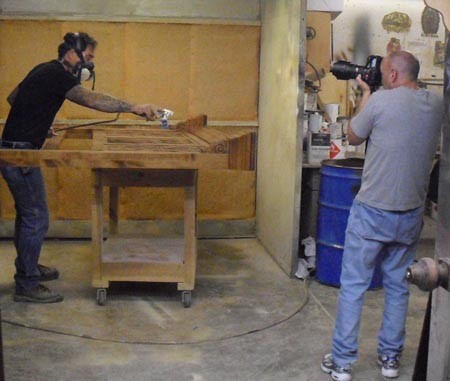 Here's a photo of Mike A. in the finish shop. Mike is applying our signature, natural-feeling topcoat, which is the final stage in a multiple step finish process that begins with hand rubbed stains.
Remember, you're always welcome to tour our wood workshop! We're happy to have you. Call any time to schedule your tour.